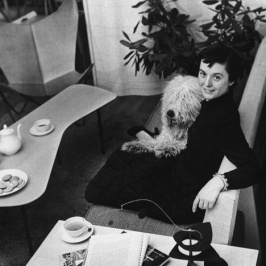 Florence Knoll (1917 – 2019)
Born to a baker, and orphaned at age twelve, Florence Schust grew up Saginaw, Michigan. Schust demonstrated an early interest in architecture and was enrolled at the Kingswood School for Girls, adjacent to the Cranbrook Academy of Art.
While at Kingswood, Florence befriended Eilel Saarinen, whom she would later study under at Cranbrook. Warmly embraced by the Saarinen family, Florence vacationed with them in Finland, enjoyed the company of their accomplished friends, and formed a very close relationship with Eliel's son, Eero. The connections she made and the skills she developed while at Cranbrook were the foundations of Florence Schust's incredible design education and pioneering career. With recommendations from Eliel Saarinen and Alvar Aalto, Florence went on to study under some of the greatest 20th century architects, including Walter Gropius and Marcel Breuer in Cambridge, Massachusetts and Ludwig Mies van der Rohe at the Illinois Institute of Technology.