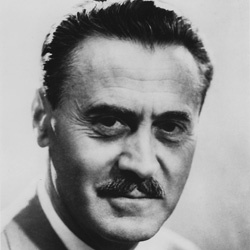 Franco Albini (1905-1977) a prominent figure in the Rationalist Movement, left a lasting impact on architectural, furniture, industrial, and museum design. Graduating in architecture from the Politecnico di Milano in 1929, he gained experience at renowned design studios and cultivated his Rationalist stance through contributions to Casabella magazine, becoming its spokesperson.
Establishing his own Milan practice in 1931, Albini championed workers' housing, and post-war reconstruction projects with Franca Helg from 1952 sustained this focus. Collaborating with Cassina in the 1940s, his chair designs reflected his signature style, while work with Poggi and others also showcased his furniture designs. Milan and Genoa were pivotal to Albini's influence; he masterminded Line 1 subway station development with graphic designer Bob Noorda (1962/63) in Milan, and shaped Genoa's urban fabric, including museums like Palazzo Bianco (1949/51), Palazzo Rosso (1952/62), and Tesoro di San Lorenzo (1952/56).
Honored for his cultural contributions, Albini's affiliations ranged from the INU, CIAM, and Accademia Ligustica di Genova to MOMA in New York and the London Royal Society of Arts. Awards included the La Rinascente-Compasso d'Oro for the Luisa chair (1955), the Parson School's Bronze Medal (1956) for industrial design, the Olivetti Award for Architecture (1957), and the Royal Designer for Industry title (1971).
Throughout his oeuvre—encompassing home furnishings, industry, and museum design—Albini embodied logical coherence, expressive purity, and profound ethical and historical integrity. His architectural and design legacy stands as a cornerstone of 20th-century Italian architectural culture, reflecting his intense dedication to creativity, composition, and a distinctive aesthetic sensibility.