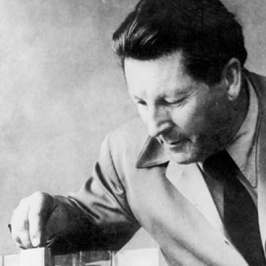 Gerrit Thomas Rietveld, born on June 24, 1888, in Utrecht, appears to possess two distinct creative personas, each so divergent that his body of work could be mistaken for that of multiple artists. The first persona embodies a craftsman cabinet-maker who works within a primal vernacular, reinventing chairs and furnishings with an originality as if no one before him had ventured into their construction. He follows his own structural principles. The second persona is that of an architect employing refined formulas, deeply committed to advancing the rationalist and neoplastic ideologies within the realm of European architecture. These two modes of creation intermingle, overlap, and harmonize in a seamless fusion, resulting in a coherent evolution.
In 1918, Rietveld joined the "De Stijl" movement, which had sprung up around the eponymous journal founded the previous year by Theo van Doesburg. Drawing on cubist principles, the group translated laws governing the dynamic deconstruction of compositions into an ideology, with influence from Frank Lloyd Wright's architectural lessons. Collaborating with various artists, including Robert van't Hoff, Vilmos Huszar, Theo van Doesburg, and Cornelius van Eesteren, Rietveld emerged as a distinguished advocate of neoplasticism.
Among his pivotal works are the Schröder House in Utrecht (1924), the "Row Houses" in Utrecht (1931-34), the Dutch pavilion at the Venice Biennial (1954), and the sculpture pavilion in the Rijksmuseum Kröller-Müller at Otterloo and the Van Gogh Museum in Amsterdam (1955). Rietveld's equally significant furniture designs, including the iconic "Red and Blue" (1918), "Zig-Zag" (1934), "Schröder 1" (1923), and "Utrecht" (1935), have been selected by Cassina for production.