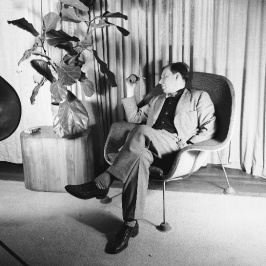 Eero Saarinen (1910-1961), born to renowned architect Eliel Saarinen and textile artist Loja Saarinen, was immersed in design from an early age. Collaborating with his father on furniture and fixtures for Cranbrook Academy of Art while still a teenager, Eero's creative path was unsurprisingly set. After studying sculpture in Paris in 1929, he enrolled in Yale's architecture program the following year. Returning to Michigan in 1934, he taught at Cranbrook, collaborated with his father, and met Charles Eames. This partnership led to the groundbreaking molded plywood chairs collection, a triumph at the 1940 Organic Design in Home Furnishings competition.
Florence Knoll, a protégé of Eliel Saarinen, also crossed Eero's path at Cranbrook. Their enduring sibling-like bond influenced Florence's Knoll design invitation in the 1940s. Over the subsequent 15 years, Eero crafted iconic Knoll pieces, including the Tulip chairs, Womb chair, and 70 series seating. His meticulous, sculptural approach involved countless models and mock-ups, resulting in pieces that molded modern materials into graceful, organic forms—fundamental in shaping Knoll's early identity.
A leader of second-generation modernists, Eero Saarinen extended the boundaries of modern design, embracing curvilinear and organic elements not seen in prior works. His portfolio boasts remarkable projects like the curvaceous Dulles International Airport, the iconic Gateway Arch in St. Louis, the innovative TWA Terminal at Kennedy International Airport, and the CBS headquarters in New York. Eero's imprint on design is immense, evolving the modern vocabulary and leaving an indelible mark on architecture and furniture.